Physical Therapy is a Key Component in Inpatient Rehabilitation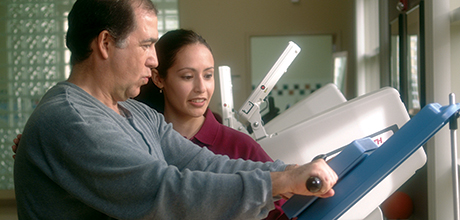 Physical therapy is a key component to our hospital's team approach to rehabilitation and recovery. Physical therapists work with patients to design specialized testing and exercise programs, to improve balance and coordination, and to increase physical function, mobility and safety.
Most physical therapy takes place in our state-of-the-art gym that houses the latest in rehabilitation technologies. Therapy may include one or a combination of the following:
Continuation of post-operative physical therapy
Treatment of orthopedic injuries
Therapeutic exercise for strengthening
Bed mobility training
Transfer training
Ambulation training
Teaching the use of walker, cane, crutches and wheelchair
Fall prevention training
Pulmonary/cardiac rehabilitation
Becoming a Patient
Our hospital provides care for those who are ready to be discharged from a hospital but not ready to return home. Treatment and care is designed to bridge the gap between hospital and home. Anyone who is limited functionally from an injury or illness can benefit from rehabilitation.
Certification

By demonstrating compliance with The Joint Commission's national standards for healthcare quality and safety, our hospital is accredited by The Joint Commission.