Home »
How to Select Your Hospital »
How to Select Your Hospital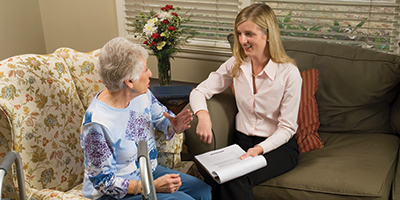 There are many choices out there to aid you in recovering from an illness or injury. Receiving therapy at a rehabilitation hospital can make a difference in how quickly you are able to return home and get back to the quality of life you deserve. Like anyone, you want to get the best care in the most appropriate setting.
Make the right choice
The next step in your recovery is your choice. When seeking rehabilitation for you or your loved one, it's important to know there are different settings from which to choose. Although many hospitals offer rehabilitation services, the quality and amount of these services can vary. The type of setting, the experience and expertise of independent contract physicians and hospital staff, and the availability of the most advanced clinical and rehabilitation resources are important factors to consider when making your choice.
As you explore your options for rehabilitation, use the checklist provided to compare availability of services, personnel, approach to delivery of care and patient outcomes.
Becoming a Patient
Our hospital provides care for those who are ready to be discharged from a hospital but not ready to return home. Treatment and care is designed to bridge the gap between hospital and home. Anyone who is limited functionally from an injury or illness can benefit from rehabilitation.
See Our Hospital
Join us for a virtual tour of our hospital where you will see our patient rooms, exercise facilities, and more. You can also set up a personal tour by calling our hospital.