Advanced Critical Care Rehabilitation for Multiple Trauma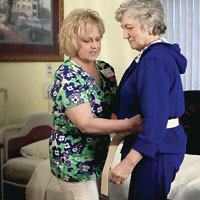 Multiple trauma is a number of injuries sustained during the same accident, fall, assault, etc. Each year, 90,000 people sustain multiple injuries serious enough to produce long-term disability. Fortunately, rehabilitation can help patients reach their long-term treatment goals faster.
Our hospital is committed to providing every opportunity for optimal recovery of traumatically injured patients. Our experienced teams of professionals offer extensive, comprehensive rehabilitation programs for patients recovering from traumatic conditions such as closed head, spinal cord and multi-trauma/multi-system injuries. Our team approach provides each patient with an individualized plan of care based on their specific rehabilitation needs.
Overview
Multiple Trauma
Rehabilitation for multiple trauma recovery includes a team approach focusing on maximum healing with patient and family education playing a key role.
Prevention
Accidents happen. Here are some tips to help prevent injuries that could lead to multiple traumatic conditions.

To prevent injury in a motor vehicle:
Always wear a seat belt.
Secure or buckle children into age- and weight-appropriate seats.
Never drive under the influence of alcohol or drugs.
Do not ride in a car with a driver who is impaired by alcohol or drugs.
To help prevent falls:
Secure banisters and handrails at all stairwells.
Install grab bars and non-slip mats on the bathtub and shower floor.
Exercise regularly to keep muscle tone and balance.
Wear sturdy non-slip shoes.
Perform a home safety check and remove things that may be tripped over.
To prevent injury during recreation:
Wear properly fitting helmets, clothing, knee and elbow pads, wrist braces and gloves.
Bike a minimum of three feet from parked cars, in case a door opens.
Follow all rules, warning signs and traffic regulations during recreational activities
Inspect equipment for damaged parts and discard or replace if damaged.
Check your recreation area for rocks, debris and uneven surfaces.
Never dive into water before checking water depth, submerged rocks, water craft, or other hazards
Never swim alone
*Sources: National Spinal Cord Injury Association, The American Association of Neurological Surgeons and The Brain Injury Association of America
Treatment
Our hospital's trauma programs ensure comprehensive treatment for all patients. Our patients and their families are educated about their specific injuries and treatments and how to prepare for a discharge back home. Physical, occupational and speech therapists teach the patient and family exercises and strategies for a safe return to mobility, communication, and performing daily activities, at home and the community.
Conditions treated:
Multiple fractures
Multiple trauma to bone, skin and other organs
Multi-trauma with brain injury
Multi-trauma with spinal cord injury
Non-traumatic brain injury
Non-traumatic spinal cord injury
Traumatic brain injury
Traumatic spinal cord injury
The multiple trauma rehabilitation program includes:
State-of-the art rehabilitation technologies
Individualized treatment plans
Education and training for patients and their families
Case management by licensed professionals
Community re-entry program
Support
After a traumatic event, seeking support and knowledge about an individual's condition(s) can help patients and their loved ones cope with and increase their awareness of what lies ahead for recovery from multiple traumatic injuries. If you or a loved one is coping with a brain injury, spinal cord injury, multiple bone fractures or other traumatic condition, there are resources available:
Certification

By demonstrating compliance with The Joint Commission's national standards for healthcare quality and safety, our hospital is accredited by The Joint Commission.
See Our Hospital
Join us for a virtual tour of our hospital where you will see our patient rooms, exercise facilities, and more. You can also set up a personal tour by calling our hospital.
Patient Quote
The compassionate and positive staff is making his stay a positive experience as well as contributing to his recovery
Patsy L. Gruenenfelder