Brain Injury Rehabilitation, Treatment and Recovery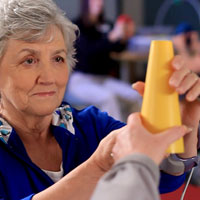 Brain injury can occur in different ways. Trauma is often involved, such as a sports injury, fall or motor vehicle accident. Brain injury can also occur without trauma, for example, the result of a stroke or infection.
Medical care is the first step in treatment to stabilize and promote the brain's healing. For long-term treatment planning, rehabilitation plays an important role.
With a long track record of experienced, specialized brain injury rehabilitation, our hospital has restored hope and encouraged maximum outcomes for many patients and their families.
Brain injury rehabilitation focuses on:
Restoring the best possible level of physical, cognitive and behavioral function
Improvement for a return to home, school or work
Training and adaptation for long-term limitations
Home-based services and assessments, as needed
Overview
Prevention
Treatment
Support
Certification

By demonstrating compliance with The Joint Commission's national standards for healthcare quality and safety, our hospital is accredited by The Joint Commission.
See Our Hospital
Join us for a virtual tour of our hospital where you will see our patient rooms, exercise facilities, and more. You can also set up a personal tour by calling our hospital.
Patient Quote
You don't want to say you enjoy a hospital stay because certainly you don't enjoy it, but I knew he was well cared for.
Gerry Corwin