Home »
About HealthSouth »
About HealthSouth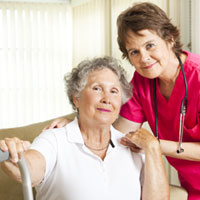 When you choose a HealthSouth Rehabilitation Hospital, you are choosing one of the nation's largest healthcare providers specializing in inpatient rehabilitation services. With thousands of employees innovating specialized care across the country, HealthSouth's priority is to deliver high quality patient care through a network of inpatient rehabilitation hospitals, outpatient rehabilitation satellite clinics and home health agencies.
HealthSouth Rehabilitation Hospitals lead the way, consistently outperforming peers with a unique, intensive approach to rehabilitative care, partnering with every patient to find a treatment plan that works for them. We offer a wide range of comprehensive rehabilitation programs for a wide variety of diagnoses. At HealthSouth, we provide access to independent private practice physicians, specializing in physical medicine and rehabilitation, who work in conjunction with HealthSouth's highly qualified nurses and therapists to provide a coordinated and personalized program of rehabilitative care, using the most advanced technologies possible.
The on-site physicians and HealthSouth's therapists and staff are dedicated to one goal-returning patients to maximum independence in less than average time.
HealthSouth Mission Statement
Our mission
To be the healthcare company of choice for patients, employees, physicians and shareholders by providing high quality care in the communities we serve.
Our values
At HealthSouth, the cornerstone of our operations is the delivery of quality healthcare in the most appropriate, safe, patient-centered environment. We place primary value on:
Quality
We look to provide our patients with the finest clinicians, technology, facilities and programs available. We do this in a safe environment, responding to the needs of our diverse patient population, always working to achieve superior outcomes for each patient in a professional, caring and cooperative manner.
Integrity
We consider trust and integrity to be essential in all our relationships. We are committed to operating our business honestly, with financial integrity and in adherence with all federal, state and local regulatory obligations affecting the operation of our business.
Cost-effectiveness
We are committed to providing high-quality healthcare in an innovative, yet cost-effective manner, managing our resources wisely, and responding proactively to the changes in our industry. We seek to develop relationships with a diverse array of business partners that share similar values and conduct business in an ethical manner.
Respect
We respect and embrace the diversity all of our employees bring to HealthSouth. We provide opportunities for our employees' growth and development and encourage their participation in an open and inclusive culture. In addition, we respect our patients, physicians, shareholders, business partners and vendors, recognizing the valuable role each of them plays in our business and striving to communicate with them openly and honestly.
Get in Touch with Us
Contact us to learn more about our rehabilitation programs or to set up a tour at our hospital.
Becoming a Patient
Our hospital provides care for those who are ready to be discharged from a hospital but not ready to return home. Treatment and care is designed to bridge the gap between hospital and home. Anyone who is limited functionally from an injury or illness can benefit from rehabilitation.
See Our Hospital
Join us for a virtual tour of our hospital where you will see our patient rooms, exercise facilities, and more. You can also set up a personal tour by calling our hospital.