Specialized Rehabilitation for Effective Wound Care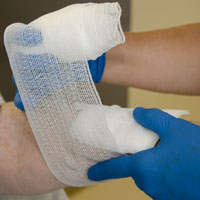 Wound care is a specialized branch of rehabilitation concerned with healing in long-term wound issues.
Structured wound care is often prescribed when wounds become chronic – going a long time without proper healing. Many factors contribute to chronic wounds, including diabetes, circulation, infection and lack of mobility in the physically disabled.
How rehabilitation can make a difference
Wound care at our hospital is a holistic, team approach to wound healing, designed to:
Address root causes
Improve related medical problems
Review medications that affect wound healing
Use leading-edge rehabilitation technology and techniques to promote long-term health and healing
Certification

By demonstrating compliance with The Joint Commission's national standards for healthcare quality and safety, our hospital is accredited by The Joint Commission.
See Our Hospital
Join us for a virtual tour of our hospital where you will see our patient rooms, exercise facilities, and more. You can also set up a personal tour by calling our hospital.
Patient Quote
When I got to HealthSouth, it was like everyone was there to help me.
Jim Crandall