Excellence in Stroke Rehabilitation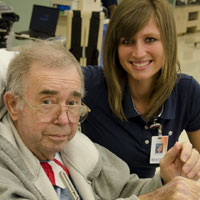 A stroke occurs when blood flow is lost in the brain, causing localized damage. Depending on the severity and part of the brain affected, stroke victims can experience partial paralysis and difficulties with gait, everyday skills, speech and swallowing.
How rehabilitation can make a difference
Rehabilitation plays a critical role in stroke recovery. In fact, problems associated with stroke generally respond very well to rehabilitation.
According to studies by the National Rehabilitation Caucus, 60 percent of stroke survivors can benefit from aggressive rehabilitation, with 80 percent of those treated through rehabilitation services returning to home, work, school or active retirement.
Our hospital takes a team approach to treating each patient with an individual treatment program that combines the latest rehabilitation technology with proven therapy techniques to give each patient the individual attention they need to recover.
Certification

By demonstrating compliance with The Joint Commission's national standards for healthcare quality and safety, our hospital is accredited by The Joint Commission.
See Our Hospital
Join us for a virtual tour of our hospital where you will see our patient rooms, exercise facilities, and more. You can also set up a personal tour by calling our hospital.
Patient Quote
When I got to HealthSouth, it was like everyone was there to help me.
Jim Crandall