Home »
Spinal Cord Injuries »
Rehabilitation for Life after Spinal Cord Injuries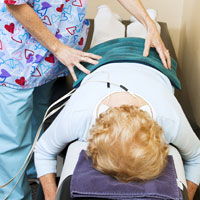 Injury to the spinal cord can severely limit mobility and function.
Spinal cord injury rehabilitation is complex and multifaceted. Our hospital's approach centers on a team of highly qualified experts using advanced rehabilitation technology and treatments. Together, they create an individualized treatment plan to meet physical, cognitive and emotional needs of the patient and loved ones.
Spinal cord rehabilitation goals are to:
Avoid future health problems
Adapt to mobility challenges
Support loved ones and caregivers
Achieve the best possible quality of life in spite of physical limitations
Certification

By demonstrating compliance with The Joint Commission's national standards for healthcare quality and safety, our hospital is accredited by The Joint Commission.
See Our Hospital
Join us for a virtual tour of our hospital where you will see our patient rooms, exercise facilities, and more. You can also set up a personal tour by calling our hospital.
Patient Quote
You don't want to say you enjoy a hospital stay because certainly you don't enjoy it, but I knew he was well cared for.
Gerry Corwin