Rehabilitation for the Unique Needs of Multiple Trauma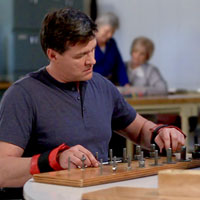 Multiple trauma describes a variety of injuries suffered during one incident. A typical example is the auto accident victim – with fractures, internal injuries and head trauma. However, a variety of circumstances can result in multiple trauma.
Multiple trauma victims need extremely specialized attention, as one injury can easily affect the progress of another. So prioritization is a critical challenge in the early stages of treatment.
Our hospital's track record of integrating many rehabilitation resources is key to successful multiple trauma management. The highly qualified medical and nursing staff provides key medical support for healing. And our experts work together to plan, coordinate and deliver the best course of rehabilitation therapy.
Certification

By demonstrating compliance with The Joint Commission's national standards for healthcare quality and safety, our hospital is accredited by The Joint Commission.
See Our Hospital
Join us for a virtual tour of our hospital where you will see our patient rooms, exercise facilities, and more. You can also set up a personal tour by calling our hospital.
Patient Quote
You don't want to say you enjoy a hospital stay because certainly you don't enjoy it, but I knew he was well cared for.
Gerry Corwin