Strength and Endurance with Cardiac Rehabilitation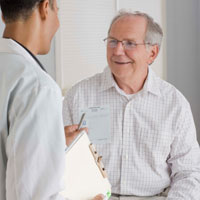 Cardiac rehabilitation has helped our patients rebuild strength and endurance in dealing with:
Heart attack
Recovery from surgery, including coronary bypass and valve replacement
Long-term cardiovascular problems, like congestive heart failure and other heart disease
How rehabilitation can make a difference
Cardiac rehabilitation is a stringent combination of assessment, supervised exercise and education.
When recovery is possible, rehabilitation gets you there faster. And with long-term, chronic conditions – rehabilitation helps patients manage the condition better. Improving quality of life is always the goal.
Certification

By demonstrating compliance with The Joint Commission's national standards for healthcare quality and safety, our hospital is accredited by The Joint Commission.
See Our Hospital
Join us for a virtual tour of our hospital where you will see our patient rooms, exercise facilities, and more. You can also set up a personal tour by calling our hospital.
Patient Quote
When I got to HealthSouth, it was like everyone was there to help me.
Jim Crandall