Home »
Bowel and Bladder »
Bowel and Bladder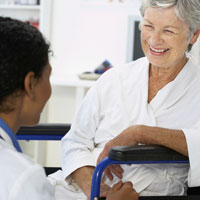 Bowel and bladder is probably one of the most important subjects to discuss when it comes to helping someone you love live an active lifestyle. Our hospital is experienced in determining the best course of treatment for a patient needing to recover, strengthen and/or manage bowel and bladder issues.
How rehabilitation can make a difference
Depending on the type of injury or illness of a patient, a variety of rehabilitation solutions are available ranging from electrical stimulation for those that are paralyzed, to exercises that may help strengthen the bladder and improve bladder control.
Certification

By demonstrating compliance with The Joint Commission's national standards for healthcare quality and safety, our hospital is accredited by The Joint Commission.
See Our Hospital
Join us for a virtual tour of our hospital where you will see our patient rooms, exercise facilities, and more. You can also set up a personal tour by calling our hospital.
Patient Quote
I feel that I would not be as far as I am now, a month post surgery, if I had not had the training at your facility.
Eileen Barner