Home »
How to Refer a Patient »
How to Refer a Patient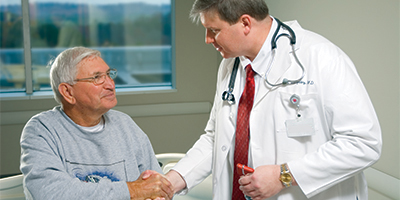 What physicians and case managers should know
Physicians and case managers may not be aware that Medicare requires that only 60% of acute patients have a CMS-13 diagnosis, which are:
Amputation
Brain injury
Burns
Spinal Cord Injury
Stroke
Congenital deformity
Hip fracture
Joint Replacements
Major multiple trauma
Neurological disorders

Multiple sclerosis
Motor neuron disease
Encephalopathy
Critical illness myopathy/polyneuropathy
ALS
Parkinson's disease
Guillain Barré

Systemic vasculidities with joint inflammation
Active rheumatoid arthritis, Psoriatic Arthritis, Seronegative Arthropathies
Severe or Advanced Osteoarthritis
Other rehabilitation diagnoses and conditions doctors and case managers should consider for rehabilitation may include diagnoses such as:
Immune Deficiency Diseases
Abdominal aortic aneurysm
Cardiac conditions such as

Coronary artery bypass graft (CABG)
Congestive heart failure (CHF)
Myocardial infarction (MI)

Laminectomy
Neuropathy
Orthopedic injuries
Pneumonia
Respiratory failure
Wound care
Conditions affecting mobility, activities of daily living (ADL's), swallowing or cognition/thinking abilities
Late effects from previous neurological injury or illness, i.e. brain injury, stroke or spinal cord injury
Other conditions or complications
Contact Us
To make a referral or for more information, contact our admissions department at 304 733-1062. You will be put in contact with one of our rehabilitation liaisons to perform a pre-admission screening and coordinate transfer to our hospital.